Posted by Ketan Raval
|
Books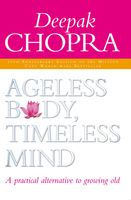 Book Title: Ageless Body Timeless Mind ..
Author: Deepak Chopra ,
ISBN : 9781844130443
"Deepak  Chopra is one of the most important healers of our time. Ageless body, Timeless Mind is a treasure, Having read this book, I feel younger than when I started it" – Marianne Williamson, Author of A Women's Worth
Deepak Chopra is an author of 31 best seller books, translated in 35 languages… This book will help you …
Do you want to read this book ?
I have this book in my library .. if you want to you get this book just contact me on ketan@letsnurture.com …